House Siding Decisions Must Take Local Weather into Account
Florida experiences several months of intense heat and high levels of UV exposure each year. Hurricane season is annual, and statistically, Floridians should expect at least one hurricane every year. Even when hurricanes and tropical storms give us a miss, Florida experiences intense storms and high winds on a regular basis. Florida house siding which doesn't factor in the extremes of our weather represents a ticking money bomb.
There are several siding options available to us to weather the Florida elements. Each has its own advantages and disadvantages. Here are the most common siding materials:
Wood Siding
Engineered Wood Siding
Aluminum Siding
Vinyl Siding
Fiber Cement Board
A Closer Look at Siding Costs
Wood siding comes in a variety of price points, but is rarely used in Florida. Termites and weather conditions make the siding less durable than other types. We generally recommend engineered wood siding, instead. Engineered wood also comes in a wide variety of price points, but is generally thought to be, along with aluminum, the premium option. Aluminum siding also comes in a wide variety of price points and quality ratings but tends to constitute the most expensive options available to most Floridians. Vinyl siding is generally regarded as the low-cost option. Fiber cement siding starts at almost the same low price as vinyl siding, and comes in a wider variety of styles and price points, with the most expensive options rivaling aluminum.
The Strengths and Weaknesses of Different Types of House Siding
Wood Siding
As we noted, traditional wood siding is not very popular in the state, because it is the most susceptible to damage by our climate and to termite intrusion. We recommend that those considering it explore the next option instead.
Engineered Wood Siding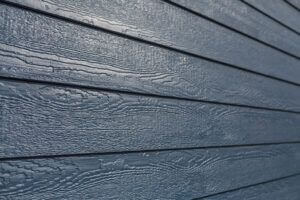 This type of siding is made of wood strands and resin, compressed to form a board specifically designed for use as siding. The boards are free of mars, defects, and weaknesses. It is available in a variety of sizes and textures. The composite material is much more resistant to impact and harsh weather, including moisture and UV exposure, than traditional wood. It is generally stronger and more durable. It is also termite resistant. However, it is not impervious to moisture damage. Much like traditional wood, engineered wood siding requires regular painting, though it can be purchased pre-primed or pre-painted. It is actually easier to install than traditional wood, though it requires special tools to cut. It is also more eco-friendly than many other types of siding and has a higher insulation value than most others. Prices and warranties can vary greatly. Warranties typically range between 30 and 50 years for engineered wood siding.
Aluminum Siding
Once the standard, aluminum siding has grown less popular over the years, though it still retains many advantages. It is waterproof, termite-proof, fire-proof, and won't rot. It is susceptible to denting and scratching, however, and can be difficult to repair when damaged. It comes in a wide array of colors and textures. Though it is easy to paint, aluminum siding does require regular painting to maintain its appeal. Though it will not rust, it can corrode over time. It is lightweight and fairly easy to install. It provides for poor insulation and is not very energy efficient. The main reason that aluminum siding has fallen somewhat out of favor is that many homeowners prefer the look and easy upkeep of vinyl. Also, aluminum tends to be significantly more costly.
Vinyl Siding
Vinyl is an affordable and durable option, often the most affordable choice for homeowners. It will not rust or corrode and is waterproof, fireproof, and termite-proof. It is resistant to scratching and denting. Vinyl siding, however, can bend or crack when put under enough pressure. It comes in a wide array of colors and textures. It is nearly maintenance-free and does not require painting, though it will fade over time with UV exposure. Also, we recommend regular washing to maintain its aesthetic. While not as good an insulator as wood or fiber cement board, it is superior to metal siding when it comes to insulation. It is lightweight and easy to install. It is not always easy to repair. For homeowners looking for a low cost, low maintenance option, vinyl siding is usually the preferred choice.
Fiber Cement Board
The most durable and rugged of all options, fiber cement board, sometimes referred to as Hardie board siding, is increasingly popular in Florida. It is nearly impervious to rain, wind, warping, rotting, scratches, dents, and termites. It has a distinctive style, which many homeowners prefer. It comes in a wide variety of colors and textures. It is fire-resistant, though not as fireproof as aluminum or vinyl. The main disadvantages of Hardie board siding are experienced at installation. First, it is heavy, hard to work with, and requires special tools to cut and install. Second, it typically rivals aluminum as the most expensive siding option. It also requires periodic repainting to preserve its aesthetic but is relatively easy to repair or replace. Still, it is very energy-efficient, long-lasting, and typically increases a home's resale value. For those reasons, many studies conclude it provides the best long-term investment for homeowners.
Florida is Our Service Area
Protect Preserve is proud to serve most of Florida, with multiple hubs across the state. Learn more about:
Tampa house siding
Orlando house siding
Jacksonville house siding
We Provide a Wide Spectrum of Home Services
One of the major advantages of working with Protect Preserve is that we can handle ALL of the issues associated with roofing and siding from simple fixes to gutter installation and even installing spray foam insulation to improve the overall R-value of your property. Here is a list of our most commonly provided services:
Temporary tarp
Shrinkwrap leak prevention
To learn more about the different types of Florida house siding, or to discuss specifics of your project, please contact us at 833-PPROOFING (833-777-6634).