Projecting New Roof Costs in Florida
Projecting new roof costs can be a challenge because there are so many factors, The average nationally for new roofs is roughly $7,700, according to Home Advisor. The average new roof cost in Florida is going to be higher. But averages never take into account the specifics of your home like size, materials, season, and so many other considerations.
A number of factors are in play, specifically the additional zoning requirements and precautions regarding hurricanes. That said, new roof costs in Florida can vary greatly depending on the materials used, the methodologies employed, when you reroof, your location, and the Florida roofing contractor you choose. The following tactics will help you to get to reduce your new roof costs:
Repair may be an option, find out
Is an overlay feasible? find out
Research carefully to understand the extent of the job
Get the timing right
If insurance will cover it. Use it
Why choose Protect Preserve
Repair May Be an Option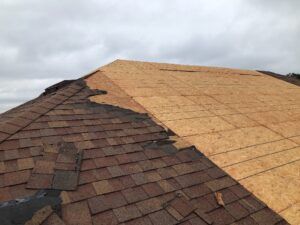 Obviously, roof repair costs can be significantly lower than new roof costs in Florida. Yet, homes with mostly intact roofs that experience leaks or damage are often completely reroofed. This is true especially in areas that experience intense storms. Why does this happen?
There are two main reasons why contractors prefer to replace roofs rather than repair them. First, most roof repairs require greater technical expertise and craftsmanship than replacing the roof. Many contractors do not have crews with the technical expertise to make difficult repairs. After a big storm, Florida roofing contractors are notorious for hiring any physical laborer they can find, regardless of their experience. At Protect Preserve, we pride ourselves on our training. Each crew foreman is a real roofing expert, trained to handle the technical challenges posed by complicated repairs.
Second, whole house reroofing is much more profitable than repairing a roof. Some roofers will exaggerate the extent of the problem, and make significantly more money off a whole roof replacement. Following a big storm, homeowners are often in panic mode and quickly grow weary of having a blue tarp on their home. Too often, homeowners pay more out of pocket or see their insurance rates increase. They almost always have to wait longer for a complete roof replacement than a repair. Devious roofers may exploit people in a vulnerable situation. At Protect Preserve, that is not how we operate. You have our commitment to look out for your best interests. We present the best options for you, and allow you to make informed decisions about your project.
Is an Overlay Feasible? Find Out
Shingle overlay can cut 25% or more from your overall roofing cost. What is a shingle overlay? Basically, you're just putting new shingle over old ones, without removing the existing roof substructure/decking or shingles. It will increase the weight on the roof. To ensure you don't compromise the integrity of the roof it is best to have your roof inspected by a professional before making a decision to do an overlay.
In the best-case scenario, you would do an overlay when your roof has passed a midpoint of life-expectancy, not when it is heavily damaged. Otherwise, whatever damage exists remains beneath the new overlay. This can cut into the life of the new roof, and makes any future repairs more complicated. However, sometimes this is a great option, so don't totally disregard it without consulting with a roofing expert.
Research Carefully to Understand the Extent of The Job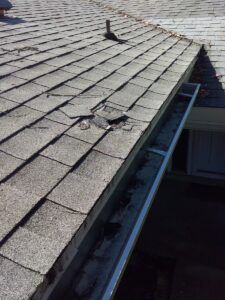 It is important to know as much as you can about the project. Key factors include the size of your roof, the extent of the damage, and most importantly the kind of materials involved. Also consider whether there are skylights, chimneys, and other structures that require special consideration.
Essentially, the cost of roof replacement is the expense of the materials used, the disposal of the old materials, and the labor costs. The larger the roof, the higher the new roof cost is likely to be. Structures on the roof, like skylights, increase the time involved, expanding labor expenses. Clay tiles, slate roofing, metal roofing, asphalt, and concrete roof tile, are all popular in Florida, and costs can vary widely. It is also a very important factor.
Of those factors, the new material expenses tend to be the most variable. That decision also has the greatest impact on the durability of your roof, and the resale value of your home. Research and consultation will help you make the most balanced, cost-effective investment. We would be happy to help you weigh the costs and benefits of repair, replacement, and different types of roofing.  In order to maximize your investment, you should at least be able to discuss the following options with your Florida roofing contractor:
Slate roofs
Rubber slate roofs
Stone-coated steel
Built-up roofs (Commonly called BUR or "tar" roofs)
Wood shakes
Solar roof tile
If your roofer cannot provide you with these options, beware. It is most likely because they are not skilled in installing or repairing all of these material types.
The cheapest option for homeowners needing to fix or repair a roof is not always the best. Other options are often the more cost-effective solution in the long-run. If you plan to stay in your home for decades, it is important to consider durability and energy efficiency. If you plan to sell soon, it is important to consider the impact your roof can have on resale value. Explore all your options before making such a large investment in your home.
Get the Timing Right Seasonally
Don't wait until hurricane season to put on new roofs. Costs for labor, and especially materials, can skyrocket after a major storm, even if the storm hits a few counties away. It's better to act before "roofing season" if at all possible. From late November to March, Florida generally experiences mild weather and better working conditions. Roofing contractors tend to have fewer jobs. These factors help the job go quicker and save you money. Accordingly, schedule in advance for the "off-season" if possible.
If You've Got Insurance Use It
You may be surprised at what insurance will cover, especially if your roof is in urgent need of repair after a storm. If you can get insurance to cover most of the cost, it may be in your best interest to upgrade to a more expensive roofing material known to last longer or increase your home value. Insurance companies are sometimes difficult to deal with. We have been doing it for years. Our helpful team can set realistic expectations, speak the language of insurance companies, and help you to document the loss.
Why Choose Protect Preserve?
Though new roof costs in Florida can fluctuate, it's possible to reduce it using these tactics. Consultation, comparison shopping for materials, and collaboration with roofers like Protect Preserve help reduce overall cost. It also allows you to get the most protection and highest quality installation for your new roof. Give us a call to explore your options.
Florida is Our Service Area
Protect Preserve is proud to serve most of Florida, with multiple hubs across the state. Learn more about:
New roofs in Tampa
New roofs in Orlando
New roofs in Jacksonville
We Want to Be Your Problem Solver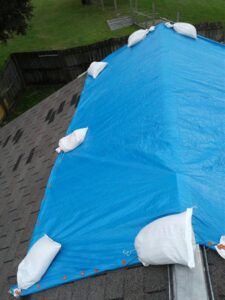 One of the major advantages of working with Protect Preserve is that we can handle a wide variety of issues associated with leaks and roof damage. We fix simple leaks, can provide temporary tarps for emergency situations, and even help with siding and gutter issues. Here is a list of our most commonly provided services:
Temporary roof tarp
Shrinkwrap roof leak protection
To minimize your new roof cost in Florida, and for a free consultation with a helpful professional, please call us at 833-PPROOFING (833-777-6634).