Florida homes need to withstand some serious weather conditions, from oppressive summer heat to hurricanes.
Flat roofs have their own unique challenges that can't be resolved with materials used in a pitched roof building. Installing a roof membrane in Florida is a smart investment that can protect your building from severe weather.
We're going to look at exactly what a roofing membrane is and does, and the advantages and disadvantages of installing roofing membranes in Florida.
What is a Roof Membrane?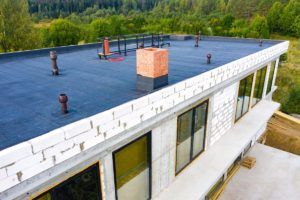 Membrane roofing is used to protect the building below from the weather and water. Their primary function is to prevent water from entering the building. Roofing membranes also offer better insulation than most other types of roofing. Roofing membranes are manufactured using several different materials such as rubber and PVC. Commonly found on commercial buildings in areas with severe weather, such as Florida, they are also used on residential properties with flat or nearly flat roofs. Two of the top materials for low slope roofs in the Southeast are Polyvinyl Chloride (or PVC), and Thermoplastic Olefin (or TPO).
The Advantages of a Roof Membrane in Florida
Both PVC and TPO roofing materials offer benefits to homeowners. They are durable, resistant to the weather, chemicals, fire, wind, and water. Let's look at the specific benefits each material offers to homeowners.
The Benefits of PVC Roofing Membrane
PVC is extremely durable with a typical lifespan of 20+ years.
PVC is a very good insulator, increasing heating and cooling efficiency
PVC is chemical, fire, and wind-resistant.
PVC is mold, bacteria, and plant root resistant.
With hot-air welded seams, PVC is water-resistant.
It is eco-friendly and recyclable.
The Benefits of TPO Roofing Membrane
TPO offers flexible installation. It can be glued, attached directly to the deck, and heat welded around chimneys and other accessibility points.
TPO is resistant to dirt build-up, punctures, tears, mildew, and algae.
TPO has a long lifespan of 22-30 years, on average.
TPO is UV resistant, making it very energy efficient. This can substantially lower your heating and cooling bills.
It is made from environmentally friendly materials, TPO exceeds normal Energy Star standards and can help lower carbon emissions.
Your roofing contractor can further explain your options, costs, and potential energy savings you can enjoy with a roofing membrane system.
The Disadvantages of Roof Membranes in Florida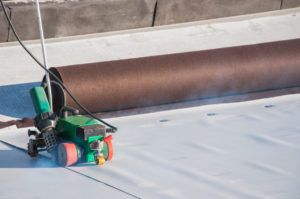 While there are many benefits to installing roof membranes in Florida, there are some drawbacks to consider before making the investment.
The Disadvantages of PVC Roofing Membranes
While all roofing products shrink over time, PVC has a strong tendency to shrink and stress seams, potentially lifting corners and allowing leaks over time.
Older PVC can shatter or puncture in colder weather. Avoid foot traffic when air temperatures are below 50 degrees.
PVC can be difficult to repair.
The Disadvantages of TPO Roofing Membranes
The quality of the material can vary widely by manufacturer. Be sure to consult with your roofing contractor about the specific TPO material they will be using to ensure maximum quality and value
If improperly laminated, weak points may appear. This results in shrinking, cracking, and premature deterioration
TPO comes in rolls that are small in width so you will have seams every 6 to 8-feet. Seams will expand and contract with the weather. This can cause loose seams that can leak following large temperature swings.
TPO does not always handle high heat very well. Again, it is essential to get high-quality TPO. Check the manufacturer's specifications as some handle heat significantly better than others.
A roof membrane system can be a great choice for keeping your home safe from the harsh and sometimes violent weather we have in Florida. Working with a professional roofing contractor and using the highest-quality materials can significantly reduce any disadvantages. Your home is one of your largest investments; keeping structures safe with roof membranes in Florida can be a very smart decision.
Florida is Our Service Area
Protect Preserve is proud to serve most of Florida, with multiple hubs across the state. Learn more about:
Tampa roof membranes
Orlando roof membranes
Jacksonville roof membranes
Giving You the Best Options
A roofing membrane is just one of many options worth considering for your flat or nearly flat roof. In order to maximize your investment, you should at least be able to discuss the following options as they apply to you with your roofing contractor:
Slate roofs
Rubber slate roofs
Stone-coated steel
Built-up roofs (Commonly called BUR or "tar" roofs)
Wood shakes
Solar roof tile
Roof membranes (for flat roofs)
If your roofer cannot discuss these options with you, you should ask why. It may be because they are not trained in all of these options. Explore all your options before making a large investment in your home.
To learn more about your options, and or discuss which type of roof membrane in Florida makes the most sense for you, please call our helpful team of experts at 833-PP-ROOFING (833-777-6634).