Having a high quality and durable roof is critical for protecting your home, especially in Florida. Frequent hurricanes and heavy rains tend to stress your roofing materials. This is why homeowners should prepare accordingly by choosing the right gutter materials, maintaining downspouts, installing a durable roof, and keeping up with siding. At Protect Preserve Roofing, we specialize in Panama City gutter installation services and proper roof maintenance. Not only do we install, repair, and replace gutters, but we also help you select the right material and design for your property.
Understanding the Process
Functioning gutters properly channel rainwater. That sounds simple enough, but it's more than that. This simple feature protects your roof, exterior walls, and foundation from water damage. Installing the right gutters in your home will be a significant step towards mitigating the harmful effects of Florida hurricanes, tropical storms, and just everyday rain. Before you find a contractor or select gutters for your home, you should keep some important things in mind.
First, consider your options. There are many gutter installers in Florida, but you should always aim to get value for your money. Some contractors may offer low costs for their gutter installation services, but without quality workmanship, they still are a poor value. By the same token, you don't want to overpay either. To ensure that you're working with the right gutter installers consider experience, level of service, and reviews from previous customers. Starting with the right company will help you end up with a higher quality roofing assembly.
What Should You Consider Before Doing Panama City Gutter Installation?
Installing gutters is a process that involves more than just the gutters themselves. When considering gutter installation services for your Panama City home, keep the following factors in mind:
The gutter material
There are several different material options you can choose for your gutters. Materials used for gutters are (in order of cost from least to most):
Vinyl
Aluminum
Stainless steel
Copper
The cost for each increases exponentially with copper being about ten times the cost of vinyl.
Copper is the premium choice of distinction. Stainless steel provides excellent durability against heavy rains and strong winds. Aluminum is an excellent balance between value and functionality. Each foot of aluminum is quite affordable and resilient in tough weather conditions. Vinyl is the most common and most affordable option.
Accessories
In addition to the gutters themselves, you also need downspouts, gutter guards, and other similar accessories. Downspouts channel water away from the roof and into the ground. They prevent water from tricking down your exterior walls and causing gradual damage over time. You should ideally have downspouts installed every 35 feet, flanked by splash blocks and drains.
Gutter guards help keep debris away from the interior of your gutters. These relatively low-cost options (under $10 per linear foot) will prevent your gutters from being blocked by objects such as rocks, leaves, and dirt. Gutter accessories help keep your gutters clean and you won't have to climb onto the roof every few weeks to clean out debris, even if you live under a live oak in January.
Weather 
Weather in Panama City can be quite harsh for your gutters. Strong winds, heavy rainfall, and blowing debris often beat against your roof and can accelerate wear and tear. This is why seamless gutters are your best option. Seamless copper or stainless steel gutters are durable, effective, and aesthetically appealing. However, you can also protect your home from water damage by using vinyl or aluminum guttering. What also matters is the installation process and accessories that will be used.
Regardless of your initial material, you need a contractor who uses the right downspouts, restraints, and installation techniques. For example, your home may be located in the direct path of strong winds. This orientation may necessitate a high-quality installation process to mitigate wear and tear on the gutters.
We Are Florida's Choice for Installing Gutters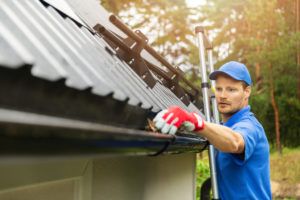 Protect Preserve is proud to serve most of Florida. We have multiple hubs across the state. Learn more about:
Tampa gutter installation
Orlando gutter installation
Jacksonville gutter installation
We Aren't Just a Panama City Roofing Contractor – We Are Your Full-Service Provider
Here is a list of our most commonly provided services:
Roof tarp
Shrinkwrap roof leak prevention
We Provide Unsurpassed Gutter Services
Protect Preserve Roofing provides high-quality gutter installation services in Panama City, Orlando, Jackson, and Tampa. When you choose us, you will get much more than just a gutter installed. You will also get a reputable and experienced roof installation company, roof repairs, insulation, and house siding. We know how to take care of roofs and homes in Panama City. Whether you need repairs for a leaking roof or new siding after a storm strikes, our Panama City gutter installation service will put you on the right track for keeping your home in good condition. Want to learn more? Call us today for a free consultation and price quote at 833-PP-ROOFING (833-777-6634​).