In terms of roofing, it is often unwise to use contractors that go the cheap route exclusively. There are appropriate areas of roof management where costs can be cut, but the cheapest bid will almost always be insufficient.
Consider all the options, not just price when researching roof companies and contractors. This helps you determine where your long-term investments are most appropriate. Protect Preserve is a full-service roofing solution esteemed as top-tier in Panama City. Roof leak repair, preventative maintenance against possible future leaks, and storm recovery are just a few services that are available through Protect Preserve.
Only the Best: Highly Skilled Roofing Contractors in Panama City

When making such a large investment for your home, you want knowledgeable, professional roofers working on your property. At Protect Preserve, we carefully and thoroughly train our crews and leaders to be better than anyone else in the state. It's our privilege to offer our homeowner customers the highest quality in terms of services rendered.
That quality comes with undeniable expertise. Our roofers take personal pride in the work that they complete for our customers. We expect insight, experience, the foresight to catch future problems, and passion in our team members. Our personnel stand behind the work they do, and you can trust in what they produce for you because they hold their work quality to the highest standard.
Protect Preserve Prioritizes Customer Care and Excellence in Craftsmanship
Though our work speaks for itself, we want you to feel well taken care of and satisfied through the whole process. We'll work closely with you, listen to what your issues are, and provide detailed information about what we offer to assure we are on the same page. You will be guaranteed several things if you choose Protect Preserve:
State Level Certification
Insured, Licensed Services
A Stellar Reputation in Panama City
Competitive and Fair Pricing
Comprehensive Roofing and Maintenance Services
Our team will listen to you. It's a priority for Protect Preserve to ensure communication is clear, consistent, and timely. Clear communication eliminates many misunderstandings and helps the process move along faster.
The Value of Integrity
You can't put a price on integrity. At Protect Preserve, we deeply value integrity, always offering economical solutions to get the job done right for our clients. We'll offer you roof repair, if it's a viable option, before suggesting a total replacement.
Unscrupulous contractors push for a total replacement even when a repair is most appropriate. This is because replacement is a bigger ticket and an easier process technically than a roof repair. In contrast, transparency is key to our services. You know what you're getting, and what it will cost. We will provide you key information such as:
Straightforward, Honest Estimates
Reasonable Timelines
Available Supervisors to Answer Your Questions Through the Whole Process
We're looking to help you make the best choice for your home and budget. You get out what you put in; honesty begets honesty, and so does integrity of operations. Contact us for a consultation so we can help you save money and protect your home simultaneously.
Examining Multiple Roofing Options for Your Panama City Roof Leak Repair
Minimizing up-front cost starts with a shingle quote on the lower end. That said, shingles don't always stand the test of time. Paying more at the start can save you more in the long run. There is a balance. Beyond shingles, you might look into architectural shingles, metal roofing, or tile. If you have insurance helping foot the bill, these too should be considered.
When you're planning to live in one place for multiple decades, you want to think about repairs in the long term. Efficiency and durability are key. Also, resale value is a real factor to consider. If you're selling right away, you might go with the cheaper option – though that could diminish potential resale price.
For the full picture, you'll want to consult with a reliable contractor. Take faith in knowing that we will work with what you want and lay all the options on the table.
Qualitative, Honest, Full-Service Solutions
The best Panama City roof leak repair will come from straightforward contractors who operate with strong ethical principles; vested with professional integrity. They'll be experts in the region, all manner of roofing materials, replacement strategies, and repair secrets. You may have extensive damage to contend with – and knowing your roofing contractors can handle anything is extremely valuable.
Explore the Best Roofing Options
There are a plethora of options available to you. In Florida, with our intense sun and sometimes even more intense storms, we have extra factors to consider. It is easy to focus on the very specific up-front costs. In order to maximize your investment, you should at least be able to discuss the following options with your Florida roofing contractor:
Built-up roofs (Commonly called BUR or "tar" roofs)
Roof membranes (for flat roofs)
Ceramic or clay roof tiles
Wood shakes
Solar roof tile
Slate roofs
Rubber slate roofs
Stone-coated steel
If your roofer cannot provide you with information about these options, keep looking. It may be because they are not skilled in all these areas. Explore all your options before making a large investment in your home.
We Are Florida's Choice for Roofing Contractors
Protect Preserve is proud to serve most of Florida. We have multiple hubs across the state. Learn more about:
We Aren't Just Panama City Roofing Contractor – We Are Your Full-Service Provider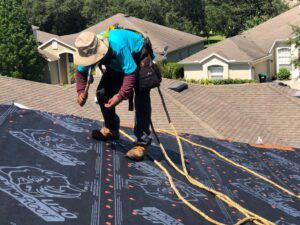 One of the major advantages of working with Protect Preserve is that we can handle ALL of the issues associated with roof or siding damage. We can fix simple leaks or provide complete restoration, and everything in between.
Here is a list of our combined most commonly provided services:
Shrinkwrap roof leak prevention
Roof tarp
Completely reroof house
Protect Preserve focuses on roofing and property enhancements like installing gutters or siding, or installing spray foam insulation to improve the R-rating of your property. After years of working with roofing contractors, Protect Preserve was created to solve the problems we saw first-hand that homeowners have to deal with. We have a different approach to a wide range of problems that homeowners encounter. That is why we aren't like any other Panama City roofing contractor. If you're looking for free expert consultation and the best Panama City roof leak repair around, contact us at (833) 777-6634.