Homes in Florida's Panhandle must withstand severe climatic conditions, from hurricanes to the high temperatures of summer. Flat roofs have their own challenges. Hiring a specialist to install a roof membrane in Panama City is a wise decision and the best approach to protecting your home or business with a flat, or nearly flat roof. In this guide, we are going to explain what a roofing membrane is, how it works, as well as its merits and faults.
What is a Roof Membrane?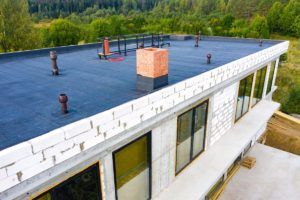 Membrane roofing is designed to protect the roof of a building from water and harsh weather. It is one of the options for flat roofs. The critical function of the membrane is to deter water from penetrating buildings. Additionally, membranes provide more reliable insulation compared to other types of roofing options.
Roofing membranes are made from several materials, including PVC and rubber. It is usually installed on commercial buildings in places with harsh weather, such as Panama City. They are also common in residential structures with almost flat or flat roofs.  The top-most materials used in roofing membranes are Thermoplastic Olefin (TPO) and Polyvinyl Chloride (PVC).
The Benefits of Installing a Roofing Membrane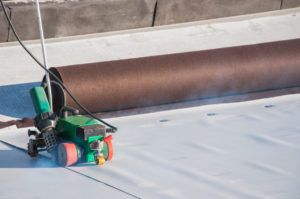 Both TPO and PVC materials are beneficial to homeowners. They can withstand harsh climatic conditions- resistant to water, wind, and fire. Also, they are durable. Here are more benefits of roofing membrane:
Pros of PVC Roofing Membrane
Lifespan of up to 20 years makes it highly durable.
It is an excellent insulator, enhancing cooling and heating efficiency.
Wind, fire, and chemical resistant.
Plant root, bacteria, and mold resistant.
It is recyclable and environmentally friendly.
Benefits of TPO Roofing Membranes
Easy to install.
Resistant to algae, mildew, tears, punctures, and dirt.
Lifespan of up to 30 years makes it highly durable.
Ultraviolet Light Resistant.
The Disadvantages of a Roof Membrane in Panama City
Even though there are numerous benefits of roof membranes, there are some disadvantages as well.
Cons of PVC Roofing Membranes
PVC membranes are prone to shrinking, which may cause leaks over time.
Older membranes can puncture or shatter in cold weather.
It is challenging to repair PVC membranes.
The Disadvantages of TPO Membranes
TPO comes in different materials and can vary from one manufacturer to another. Make sure that you talk to your contractor about the type of material that will ensure the best value and quality. Weak points can appear if the material is not appropriately laminated. This, in turn, may cause cracking, shrinking, and sudden deterioration.
TPO is available in small rolls, which means you seam every 8 feet. Seams tend to contract and expand with weather, which may make them loose, which can eventually lead to leaks when the temperature fluctuates. TPO does not respond well to high heat.
A roofing membrane is the best choice to keep your home safe from harsh climatic conditions, water, dust, dirt, and other types of dangerous stimuli. However, it is essential to work with a skilled roofing contractor that can help you find quality materials, and also, install membranes in your home. A home is one of the most significant investments a person usually has, so it is crucial that you keep every part of the structure safe by using roof membranes.
We Service Florida Home & Business Owners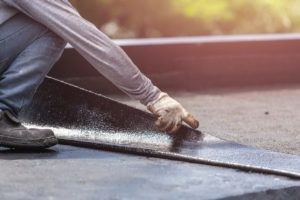 We are happy to offer high-quality services in Panama City. We also have different branches all over the state if you are in need of our services outside of Panama City. One benefit of partnering with us is that we can handle various problems associated with roof replacement and repair.
We have spent many years in the building and construction industry, helping commercial businesses and residential homeowners with a variety of services. We always strive to Protect and Preserve your property
While there are many roofing options on the market, the roofing membrane is one of the best options that homeowners and commercial businesses with flat roofs should consider.
If your roofing contractor is not able to talk about any of the options discussed above, ask them why. The chances are they are not sufficiently skilled with membrane roofs.
Find the Best Roofing Options
There are many good options when it comes to roofing. In Florida, with our intense sun and sometimes raging storms, we have extra things to consider. It is easy to focus on the very specific up-front cost. If you are planning to stay in your home for years to come, energy efficiency and durability should factor into your thinking. If you are planning to sell your home, the impact on resale value should be a consideration, as well. In order to maximize your investment, you should at least be able to discuss the following options with your Florida roofing contractor:
Built-up roofs (Commonly called BUR or "tar" roofs)
Roof membranes (for flat roofs)
Rubber slate roofs
Stone-coated steel
Ceramic or clay roof tiles
Wood shakes
Solar roof tile
Slate roofs
If your roofer cannot provide you with these options, it is likely they are not prepared to install that type of material. Explore all your options before making a large investment in your home.
We Are Florida's Choice for Roofing Contractors
Protect Preserve is proud to serve most of Florida. We have multiple hubs across the state. Learn more about:
Roof membranes in Tampa
Roof membranes in Orlando
Roof membranes in Jacksonville
We Aren't Just Panama City Roofing Contractor – We Are Your Full-Service Provider
One of the major advantages of working with Protect Preserve is that we can handle an enormous cross-section of the issues associated with roofs and siding. We can fix simple leaks or provide you with a new roof, and everything in between. We document everything for insurance purposes and will work with all insurance companies.
Here is a list of our combined most commonly provided services:
Roof tarp
Shrinkwrap leak prevention
Completely reroof house
Complete home restoration
After years of working with roofing contractors, Protect Preserve was created to solve the problems we saw first-hand that homeowners have to deal with. We have done that, and have a different approach to a wide range of problems that homeowners encounter. That is why we aren't like any other Panama City roofing contractor. Make sure that you explore all the available options before you spend your hard-earned money. To know more about the different options that we have or the type of roof membrane in Panama City that is right for you, do not hesitate to call us at (833) 777-6634, and one of our representatives will be happy to help.