Three Primary Kinds of Roofing Shingles in Florida
Roof shingles in Florida come in a number of different varieties and colors. Traditional 3-tab shingles offer a low-cost, versatile solution for homeowners who need roofing solutions. Roofing shingles are the traditional look, aesthetic, affordable, and if you're even a little bit handy, you can do some of the replacement work yourself. That being said, right now there are three primary shingle solutions with which you're likely to come into contact in Florida. We'll briefly explore the pros and cons of all three:
Asphalt 3-Tab Shingles
Architectural Shingles
Wooden Shingles Or "Shakes"
The Advantages of a Roof Shingle in Florida
Asphalt 3-tab roof shingles are extremely popular. They are considered the traditional roofing shingle. They're moderately durable and made of modern materials. Essentially, there's an asphalt and fiberglass mix that has protective materials covering it for more strength. Such granules can also be used as a means of controlling color. The two primary advantages of traditional 3-tab shingles are low up-front costs, and versatility. They come in a wide variety of colors to match whatever color scheme you are using on your home. They are also typically easy to match to sheds, garages, or other buildings you might have on the property.
Here in Florida, with high winds and relentless sun, the life expectancy of roof shingles is lower than the national average. According to industry averages, traditional 3- tab shingles last, on average, 12 years, while architectural shingles last 20 years.
Architectural Shingles
Architectural shingles are made of materials similar to 3-tab options, the primary difference being their durability. There's an additional layer added for more strength and better, more textured appearance. They are a step above the traditional, 3-tab shingle.
Wooden Shakes
Wooden shakes are a roofing material older than modern society, and still somewhat effective. Wood is naturally strong, and roofing that incorporates wooden solutions generally does so with composites that include hardwoods or other appropriate wood elements. If you're in a dry environment, a wood roof can be expected to last as long as thirty years, when properly installed. In Florida, however, this is a seldom-used option due to warping/cracking in the moisture and challenges in making them hurricane resistant.
Floridians typically employ one of the first two options. It's worth noting shingling, in general, may not necessarily be the most strong, secure, and environmentally friendly solution available–as we'll see shortly. Though shingling is much less expensive than other roofing, there are some drawbacks you want to think about.
The Disadvantages of Roof Shingles in Florida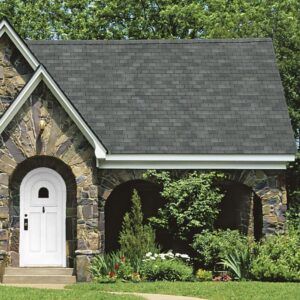 Shingles are not as durable as most other options. Metal roofing can last as long as seventy years and can withstand extremely high winds. Shingle roofing simply does not hold up that long in Florida no matter how well installed it is – owing to wind, rain, and sunlight. All three of which combine to degrade structural stability over time. Ceramic/clay tile roofing is also extremely durable and more energy-efficient. For flat or nearly flat roofs, roof membranes are popular options
Expect shingle repair/replacement to happen at between ten and thirty-year intervals, even with a fifty-year rating. Why? Start with the relentless Florida sun, and the UV damage it creates. Add in the volume of rain we get, more than many other places in the nation, and it is a rough combination for roofs. Those factors cut into their functional life.
Florida also gets more than its fair share of hurricanes. Chances are high that shingled roofs will sustain wind damage at some point, requiring roof repair. Shingled roofs are moderately difficult to repair, and you will see that many roofers prefer to reroof the entire home rather than repair roof leaks. When it does become time to replace the roofing, the roofing shingles thrown away are non-recyclable. Metal roofing is recyclable. Going the shingle route isn't quite as good for the environment as other, more recyclable options.
What Makes the Most Sense as a Roofing Shingle in Florida
While traditional, 3-tab roofing shingles are typically the cheapest option for homeowners needing to fix or repair a roof, other options may be more cost-effective solutions in the long-run. Architectural shingles are often worth the slight increase in price. Whether you want to stay in your home for decades, or are looking for a high resale value, it is worth weighing the options with your roofing contractor. In order to maximize your investment, you should at least be able to discuss the following options with your Florida roofing contractor:
Slate roofs
Rubber slate roofs
Stone-coated steel
Built-up roofs (Commonly called BUR or "tar" roofs)
Roof membranes (for flat roofs)
Wood shakes
Solar roof tile
If your roofer cannot provide you with these options, it is most likely because they are not skilled in that type of roofing and are unable to provide skilled installation. Explore your options before making a large investment in your home.
Roofing shingles in Florida come in several distinct colors and shapes, and have their own unique advantages and disadvantages. Architectural and traditional 3-tab options are both worthwhile roofing shingles in Florida, depending on your goals. Either of those may be the right option for you, but you might also consider metal roofing options, tile roofing options, or roof membrane options. Many are pricier, but last longer, and are better for the environment. If you would like free, expert guidance in weighing your options and picking the right roofing material for your project, please call us at 833-PP-ROOFING (833-777-6634).
Why Choose Protect Preserve?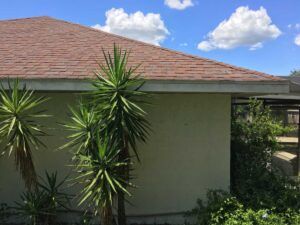 Why should you choose Protect Preserve as your Florida roof contractor? One of the major advantages of working with Protect Preserve is that we can handle all of the issues associated with leaks and roof damage, from temporary tarp for leaks, to full reroof; all the documenting your loss for your insurance company.
Here is a list of our most commonly provided services:
Shrinkwrap roof leak prevention
Temporary tarp
Other roof repairs
We Serve Florida
Protect Preserve is proud to serve most of Florida, with multiple hubs across the state. Learn more about:
Tampa shingles and roofing
Orlando shingles and roofing
Jacksonville shingles and roofing
Start saving today and get your home back to normal faster than you would have imagined. For expert guidance on roof shingles in Florida, and a free quote, please call us at 833-PP-ROOFING (833-777-6634).